PREVIOUSLY…
The CSA investigated a murder of a Skrull, Zach and Stella discovered that Sir Spider (At least the one they encountered in Texas) was a Skrull, and the Skrulls have nuked the City of Los Angeles California… all and all it's shaping up to be a really bad day.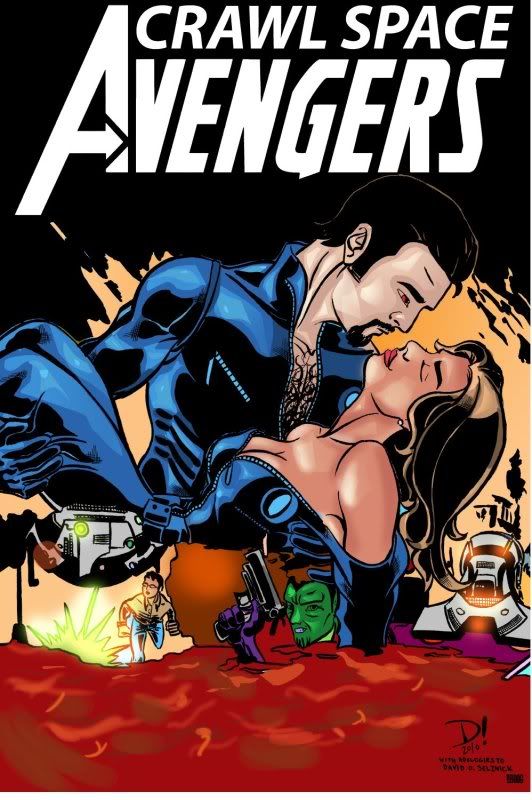 CRAWL SPACE AVENGERS




Issue 7




Written By: Zach Joiner




Art By: Gerard Delatour II




Special Thanks for the logo to "Spiderfan970"


"Build-up"


WAR OF THE WORLDS… PART ONE


MARCH 2ND—6 PM LOCAL TIME.
"The Chaos is so…. Indescribable. It's like there is nothing left. The streets are empty. What once was a city so full of life, is now dead. Bodies lie in the streets, motionless. Cars are stopped as street lights flicker in the aftermath."
Mike McDaniel was asked by the head of ZNN, to report for the 24-hour news channel about the attack. His face was flushed, for this man's face showed fear, anguish, and anger all rolled into one, but at the same time, his question was clear: What the hell happened?
--***--
Four Years Ago, a man came forward from hiding to the Dallas Headquarters of SHIELD. While on the outside, the man looked to be a normal human. But on the inside, he was something else. He was something more, sinister. You see, this man was a Skrull. He is an alien being from a far away land which was destroyed by a planet devourer known as Galatatus. With their home planet gone, they had to go to what was foretold in their ancient texts, their sacred texts. Earth would become their home. It also foretold that they would fight a great war with their sworn enemy for the survival of their species. But this man, Na'alt Mal'ckmed, defected to the human side, upon seeing their compassion. But at this time, he's sitting in front of George Berryman, on the SHIELD Helicarrier.
"You're a Skrull."
"How.. Perceptive you are Mr. Berryman."
"Cut the Crap. What reason would the Skrulls have to destroy an American City?"
"To send a message to your leaders that when you kill one of them, you deal with all of them."
"They have no Idea what we found."
"Of course not. The Queen's intelligence just told them that their was a spy murdered."
"Who do you think did it?"
"My resources tell me that it was either a Kree, or possibly the Program."
George looked into the double planed glass. Standing on the other side, was Nick Fury, JR Fettinger, Kevin Cushing and Brad Douglas.
"He's telling the truth." JR said, while grabbing a piece of gum.
"You sure?" Kevin said.
"Na'alt is a valuable asset to SHIELD. I don't think that he would turn on us when he's been able to locate, and save many of the Skrull refugees that came here four years ago." Fury said, like lighting his cigar.
"Your files say that he was a General." Brad said looking at the file on the man.
"According to him, he was third in command before his defection." Fury said.
Kevin's iPhone rang. The ringtone was Paramore's "That's what you get".
"Stella put that on there." He said after getting a look for the song from Brad before walking out of the room.
"So what's going to happen now?"
"With the Skrulls here, there is no other choice but to assume that the Kree are not too far behind. They've been negotiating a treaty for a strategic outpost on the moon for several months now. In an attempt to make goodwill, they'll probably counter-attack sooner rather than later."
Kevin walked back into the room, with a worried look on his face. Slipping his iPhone back into his pocket, he grabbed his handkerchief and whipped his brow. He looked up at him with Red eyes. "We've got a problem."
"Which is?"
"Zach and Stella found, and fought a Skrull."
Texas- Moments before.
Stella was bent over, on her hands and knees, wreching uncontrollably, before finally vomiting on the grass, she shot up, embarrassed.
"It's not that bad…" Zach said.
Stella glared at Zach, before getting up. Zach's mother, upon seeing the girl in need quickly grabbed a bottle of water and gave it to her. She used to rinse out her mouth before walking back to Zach, who was on the telephone to Jason, the Chief examiner at the Hospital that Brad owned.
"Thanks sir." He said before ending the call. He looked at Stella before giving her a hug. "You okay?"
"Just saw a person die, other than that…"
"Don't think it was a human Stella."
"Then what is it?"
Stone had walked outside with his men. They all lowered their weapons and put them on the ground, per his orders.
"I trust that SHIELD is on its way?" Stone said putting his gloves on.
"You better f—king believe it." Zach said.
"Good, cause it looks like your hands are full." Zach stopped him in the doorway.
From the doorway, Zach could see the television flicker images of the carnage that ensued from Los Angeles. His fist balled up. He reared back and hit Stone square in the jaw. Picked him up and stood him on his feet. Grabbing his lapel, he brought him nose to nose.
"This isn't over."
"It never will be Zach, and it never has been." Stone said to him smiling, his teeth stained with blood, his brown eyes staring daggers into his soul, Zach put him down and pulled out his gun. Stone knelt down to recover. Zach pointed the gun at his head.
"For years, you and I fought each other in physiological warfare. The enemy of my enemy is not my friend. You've tried to take my family, my friends, my life, from me. I'm done playing your games." Zach hand trembled as it pointed the gun at his head. Zach blinked. He looked upon his father, who was manipulating him though telekinesis, with his hand outstreached; upon realizing what was going on, Stella teleported to his side, and teleported away from Stone.
"Stay here." She said forcefully, pointing to the ground, with a blink, she teleported back.
"He's not wrong Stone. Whatever your quarrel with my father was, I will find. When I do? I will find a way to end it, make no mistake." Zach said before turning to Stella. "We're wheels up in an hour." He grabbed Stone, and placed his cuffs on his wrists. "Don't think you're going away easily." Zach said with a smile. "Call your boys over, they're coming with as well." With that, the men complied, scared of what would happen next. Zach had extra zip ties and brought them into the house. Zach, looked over his shoulder sensing something.
"What is it?" Stella asked.
"We're not alone. Get them inside. I have business to attend to." Zach said forcefully, she grabbed him, and kissed him on the cheek. "Be careful." She said shutting the door. Zach walked away from the porch, onto the hemisphere of a driveway. Across from the house lies a field, filled with the native grassland that had been there for centuries after the men, and animals had no longer roamed the open plains.
Zach took off his sunglasses, he squinted at the sunlight that permeated his baby blue eyes. He kept one eye open as his severe light sensitivity had set in. Upon taking them off however, he saw the man before him, Black who had taken off his cloaking technology to show himself.
"I've been waited long enough to make my appearance to you Zach Joiner."
Black's voice was cold, hardened and almost metallic. His eyes were hazel. His garb is like his name: all black.
"You ever just burn up in that thing?" Zach looked up and down his costume, encircling the man.
"You are well aware of my activities then."
"I have been aware for years. It seems like you're changing your tune. What was this about committing an act of war?"
"You're about to find out." He said motioning towards Stella who had just hung up the phone. She looked visibly shaken, having opened up the door. Zach turned around to respond, but Black had disappeared, seemingly without a trace, outside a note on the ground. He grabbed it, and upon reading it, crumpled it in his hand.
----***----
Kevin had walked into the foyer of the Douglas Tower to answer his phone call from Stella. Sliding his finger across the screen of his iPhone, it sprang to life before he held it to his ear, letting out a simple 'hello.'
"Kevin, there is something going on here."
"What do you mean?"
"Stone knows Zach."
"Of Course he does, he knows from-"
"No Kevin, he knows Zach."
Kevin lowered the phone down to look at it, as if to say are 'you are kidding me' to no one but himself. He raised it back to his ear. Stella not knowing that he had lowered the phone was into a diatribe of what had transpired before her, he finally calmed her down before hanging up the phone.
"Damn."
----***----
NOTE: This scene is translated from Skrull language.
Skrull Mothership—
Several miles above Los Angeles.
The Skrulls warship was slowly moving away from Los Angeles.
"Have we got their attention yet?" The Skrull Queen asked, as if she was disconnected from everything else.
"Yes my lord, they have taken notice, as have the Kree." Her servant asked.
The Queen stood up, looking out the window.
"They will fall before us."
---***---
Texas—
Zach looked upon the note. He frowned. Stella had walked up, brushing the hair out of her eyes; before gazing upon the note, which she quoted aloud.
"You fired the first shot… what does that mean?"
"It means we need to get back to New York." Zach replied, grimacing at the note. He crumpled it up again, before tossing on the ground to walk back into the house. Stella picked it up, and put it in her pocket.
Zach explained that SHIELD was on its way. The family nodded, Zach grabbed his father. "You're riding with them." He said pointing to Stone. "Stella, you're on ride along. I'm working on a lead."
Moments Later, the two of them were aboard the jet. Zach sat looking out the window of the jet, lost in thought. Stella was sitting by Daniel, inquiring about Zach.
"You like him?" He asked, almost astonished.
She laughed. "No. But I was ordered to know him. That, and he did meld with my head." She said pointing to her head almost concerned.
"My son is a rare breed. He fully understands his power, most do not fully know the limits of their power. I mean, imagine, if you will, your power… teleportation correct?" She nodded. "Do you know, that you could actually potentially teleport the lining of the atom, creating a nuclear explosion?" She looked at herself Puzzled. "It's only a theory of course, but
"Zach was the head of SHIELD at one time. He stepped in for Nick Fury after he was temporally incapacitated. During that time, Zach interacted the Skrulls, the Hand, and…" Pointing to Stone, who was cuffed to the chair in the back of the plane, "…Mark Stone. Course, my interactions with Stone only made things worse." Dan looked down at the ground.
---***---
Douglas Tower—
George's phone rang, as he was interrogating Na'alt. Berryman answered quickly, letting out a simple "What?!"
"I take it your interrogation is not running smoothly." Zach said with a grin. George replied in a frustrated tone: "It'd be better if someone who once ran SHIELD were here to do it." Zach then told George to put the phone on speaker.
"Can everyone hear me in there?"
Na'alt froze. His eyes widened. He looked at the phone to see who was calling, and saw the name. "I thought you were dead Zach Joiner." Saying that as he straighten himself up.
"Rumors of my death Na'alt, have been greatly exaggerated. Is there anyone on the inside you still have contact with?"
He shook his head. "I was in contact with the crown prince of the armada, but he was the one you found dead."
Zach turned his head to Stella mouthing 'what?' She strugged, not looking up from the computer she was typing on. Zach motioned a typing action to her, and she mouthed 'report.'
"Anyone else?" George asked, tired and frustrated.
"Right before the attack, I was in contact with the Queen, to negotiate an outpost on Mars, in an effort to ease tensions between the Kree and the Skrulls. The Skrulls were not happy that SHIELD was allowing an outpost to be built on Earth's moon."
Zach stroked his two day old beard.
"Na'alt, you're free to go." Zach said, as Na'alt was visibly relieved. "Do not go far. We'll be in touch, Berryman, take me off speaker, I need to talk to you." Annoyed, Berryman complied.
"What?"
"I need you to make sure he doesn't try to warn her. The Queen might try to contact him."
"You think he will?" George asked. "Yes and no. He has loyalties to both sides, which isn't good for people like us trying to get intel. We'll be back in less than an hour." Hanging up the phone, George looked upon the glass.
"Something tells me we're in trouble."
---***---
ONE HOUR LATER…
The plane had landed in the small airport. Zach and Stella were getting their bags and had started to climb into the limo waiting for them at the terminal. Adam, the driver of the vechile gathered their bags. "There is a message waiting for you inside sir." He said to Zach as he got in. Great. He thought. Stone and his men were being put into the armored hovercar that awaited them per SHIELD's orders.
Zach and Stella got into the car and strapped themselves into their safety belts, right as they heard the click they tightened on their own, and a screen lowered down. A woman's face was on the screen.
"Hello old friend. Looks like rumors of your death have been greatly exaggerated."
"We were never friends Na'Talia." Zach struggled with the seatbelt, remaining calm. A fine mist was blowing into the cabin. "Get out of here Stella." She looked at Zach. "Go!" He yelled almost panicked. "I'll be fine." he told her telepathicly. "Why?" She asked. "This is between her and me. Go." She stared at Zach. "GO. NOW." She blinked and she was gone.
--***--
Stella had ported to the Tower. She instantly saw Kevin and ran to him, throwing herself to him. "There is something I need to tell you. Something that I've need to say for a long time." She placed her hand on his cheek. Kevin, speechless, said with his facial features that this was what he longed to hear for a long time. "Kevin… I-" She was cut off by Brad, Asking where Zach was. "He's… at the airport. I was able to escape. He seems to be in trouble." Stella began to explain what had happened finally getting to the part where they got to the limo.
"I didn't send a limo." Brad said.
"What?"
Brad shook his head. "Where is he now." She grabbed Brad and Kevin and blinked.
--***--
"That's QUEEN Na'Talia to you Zach Joiner. Too bad she left, she would have never known you were the mass murderer that you are."
"I didn't kill your brother."
"No, but you did destroy my father's warships the last time we were here. You killed hundreds of the finest skrulls the military had to offer." Her form began the change to her native form. Her ears were pointed, her chin wrinkled, her eyes green. "Take a good look at this face. It shall be the last one your eyes ever see. The vapors that are in your cabin are from SHIELD. They were designed to negate powers. I wonder how they will work on a Meta-Human?" She got up from her seat in front of the camera. She held onto it showing a remote with a button. "This has always been about revenge." She said. "You launched the attack out of Los Angeles. So I destroyed it. Your boyhood home, is destroyed."
"Wrong. The Skrull you sent to destroy it, was killed by me." Zach said smiling. "Well then. How about DC where your friend the president lives? Or New York, where you turned up after all this time. Or even Dallas where you used to work? I've been watching you. Waiting for you. Stone told me you were alive. Now I finally get to see you die." She pushed the button. "And everything you ever stood for will die with it."
Stella, Brad an
d Kevin arrived.
[size=200]KA-BOOOOOOOOOOOOOOOOOOOOOOOOM!
To be Continued.
NEXT ISSUE: We finally see the war begin. Does Zach Joiner survive? What happens when you have SHIELD, the Kree, and Skrulls? Add in the reason that they're here, and you'll have intrigue that only CSA can deliver! Be back as we see the team of Zach Joiner and Gerard Delatour II (And possibly Enigma_2099!) return to bring you the sites completely original ongoing series!


[/size]